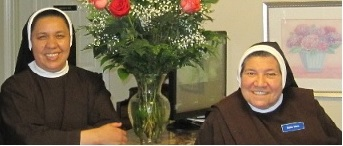 Saint Francis Home is a private, 501(c)3 non-profit retirement residence for the elderly in a quiet and peaceful residential area of western Santa Ana, California.
Saint Francis Home is run by the Franciscan Missionary Sisters of the Immaculate Conception a private, non-profit organization which is not financially supported by the Archdiocese of Orange County relying 100% on private donations and resident income.
Serving in Orange County for over 73 years.
NEXT EVENT
Annual Christmas Boutique - CLICK HERE for the flyer
When: Saturday, November 9th, 9am-4pm
Where: The St. Francis Home
Contact The Home
•
Reasonable rates

•
Saint Francis Home is open to any race or creed
•
SSI/SSP Supplemental Security Income/State Supplemental Program
•
Any payment above SSI/SSP Income must be paid by the responsible party.
•
Rates vary from $1800-$3800 per month depending on costs, location and other factors.
•
Applicants must be 62 plus years old and ambulatory
•
Bilingual Communication - English and Spanish
•
Saint Francis Guild membership open to family and friends to provide special events for residents and fundraising for the Home.

Testimonials