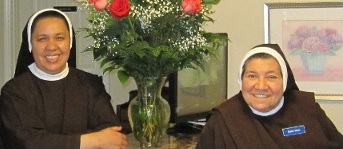 Saint Francis Home is a non-profit retirement residence for the elderly in a quiet and peaceful residential area of western Santa Ana, California.
Saint Francis Home is run by the Franciscan Missionary Sisters of the Immaculate Conception.
Serving in Orange County for over 70 years.
Contact Us
1718 W. 6th Street Santa Ana, CA 92703
(714) 542-0381
Office Hours: 8:00 AM to 5:00 PM
•
Saint Francis Home is open to any race or creed
•
SSI/SSP Supplemental Security Income/State Supplemental Program
•
Applicants must be 62 plus years old and ambulatory
•
Bilingual Communication - English and Spanish
•
Saint Francis Guild membership open to family and friends to provide special events for residents and fundraising for the Home.

Testimonials